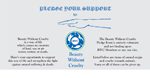 • Printed Forms can be asked for from BWC
Tel 020-26861166,  [email protected]
• Membership/Donation amounts can be sent by multi-city cheque/demand draft
or money order in the name of Beauty Without Cruelty payable at Pune.
• Forms can be downloaded, filled, scanned and e-mailed to
BWC along with scanned payment deposit counterfoil.
• Direct cheque or cash deposits in any branch of Bank of India
or an online transfer can be made in the name of
Beauty Without Cruelty, Bank of India, Main Branch, Pune 411 001
S.B. A/c No. 0500 1010 0030 961.
RTGS/NEFT/IFSC: BKID0000500.
Please note: Cash donations exceeding Rs 2,000/-
are not entitled to tax exemption after 01.04.2017.
Please inform [email protected] after transfer.
Please do not send or deposit any foreign currency.